The next revolutionary medical breakthrough could happen on home soil following a $31 million boost into University of Queensland-led health research projects.
Eight researchers from UQ's Faculty of Medicine were awarded $7 million of the funding in The National Health and Medical Research Council (NHMRC) 2020 Investigator Grant outcomes, announced today.
UQ Faculty of Medicine Associate Dean (Research) Professor Elizabeth Eakin said the funding recognised the high-quality research undertaken across the Faculty.
"Our successful funding outcomes demonstrate the breadth and impact of research being conducted at UQ that spans from cancer research to bacterial antibiotic resistance, osteoporosis and improving health outcomes for young Aboriginal and Torres Strait Islander young people," Professor Eakin said.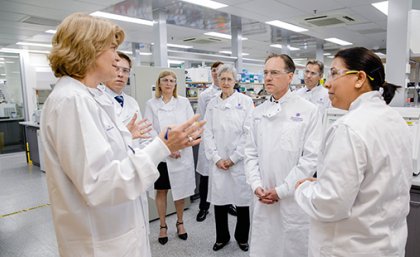 "Each research project will lay significant inroads to improving physical and mental health outcomes or contributing to fundamental biomedical knowledge in the field.
"We are incredibly proud of the diverse and life-changing discoveries that have been made by our researchers, such as the invention of the Gardasil and Cervarix cervical cancer vaccines.
"These new projects are now an opportunity for further advances or innovative treatments in the fields of health and medicine to be made."
Federal Health Minister Greg Hunt toured a lab with two UQ researchers – Professor Naomi Wray and Dr Geoffrey Spurling – who both received NHMRC funding for their projects in this round.
Dr Geoffrey Spurling from UQ's School of Clinical Medicine will lead a team working with Aboriginal and Torres Strait Islander communities to implement a health check for young people to manage social and emotional well-being.

"This research will help young Aboriginal people to live healthier lives through better detection and management of social and emotional well-being concerns," Dr Spurling said.
UQ immunologist and co-inventor of the cervical cancer vaccine Professor Ian Frazer AC was also among the grant recipients.
He received over $2 million for his new project looking into pathogen promoters of squamous epithelial cancer.
UQ received a total of 26 grants across the University, netting more than $31 million.
Other Faculty of Medicine grants were:
| | | |
| --- | --- | --- |
| Dr John Kemp, UQDI | Identifying pharmacological targets for osteoporosis intervention using whole-genome and exome sequencing of bone-related phenotypes | $549,123 |
| Professor David Paterson, UQCCR | Clinical Trials of Strategies of Treatment of Antibiotic-Resistant Bacteria | $1,624,320 |
| Dr Adam Ewing, MRI-UQ | The history of the human genome and the mechanisms of genomic disease | $1,554,485           |
| Professor Geoff Faulkner, MRI-UQ | Somatic genome mosaicism in human brain function and neurodegeneration | $2,811,818 |
| Sandra Richardson, MRI-UQ | The invisible impact of mobile DNA activity during human development | $639,750 |
| Dr Henry Marshall, SOCM | Enhancing smoking cessation with an innovative mobile health avatar | $444,875 |
A full list of NHMRC Project Grant funding is here.