UQ-Ochsner Bali travel blog
We asked UQ-Ochsner student Brian Gutierrez questions about his trip to Bali.
Student stories
Published 28 Jul, 2022 · 2 minutes
Why did you decide to go to Bali?
I decided to go to Bali because I want to explore as many countries as I can while I'm in Australia. It is a very popular destination for Australians so I was curious to see it for myself.
How far is Bali from Brisbane?
Bali is around 4500 km from Brisbane, which is about a 6-hour flight.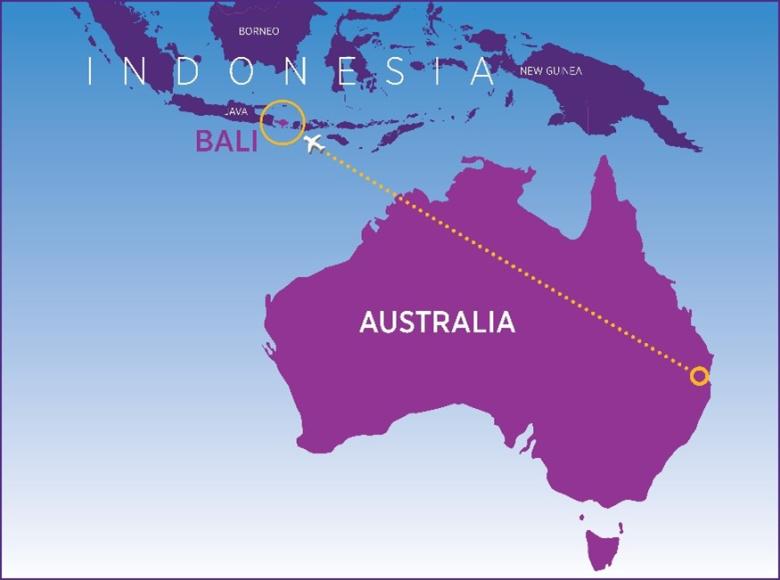 How much does a trip to Bali cost?
Prices can range from ~A$450-$1000 (US$300-$700) depending when you decide to fly, so make sure to keep an eye on prices. I paid around A$450 for my trip in June.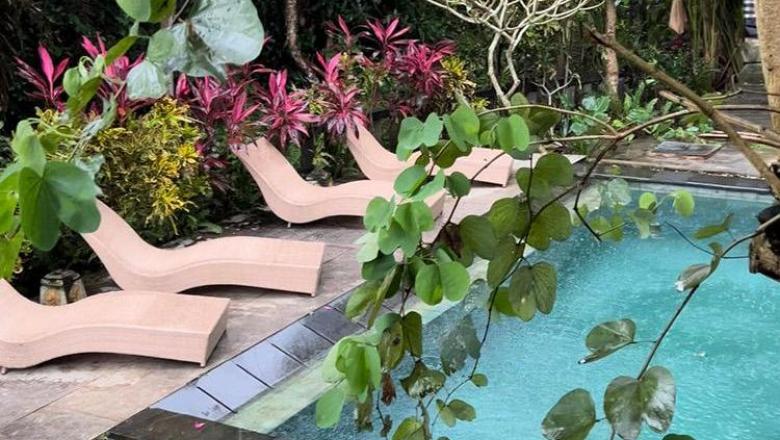 How did you travel around the island?
We used a private driver using only websites and referrals from friends and family. Also, download the Uber, Grab and/or GoJek App for rides and food delivery!
What kind of accommodation did you choose and why?
Our group booked multiple villas using the Air BnB platform, which were fairly cheap compared to hotel rooms.
What were some of the highlights of the trip?
The highlights of the trip were the temples, nature, culture, and the local people. I visited the Tirta Empul (Holy Water Temple), Tanah Lot Temple, and Uluwatu Temple to name a few. You need to wear a sarong, which is a traditional piece of garment worn around the waist to cover the legs down to below the knees because dressing modestly is a way to show respect, especially when visiting Hindu temples.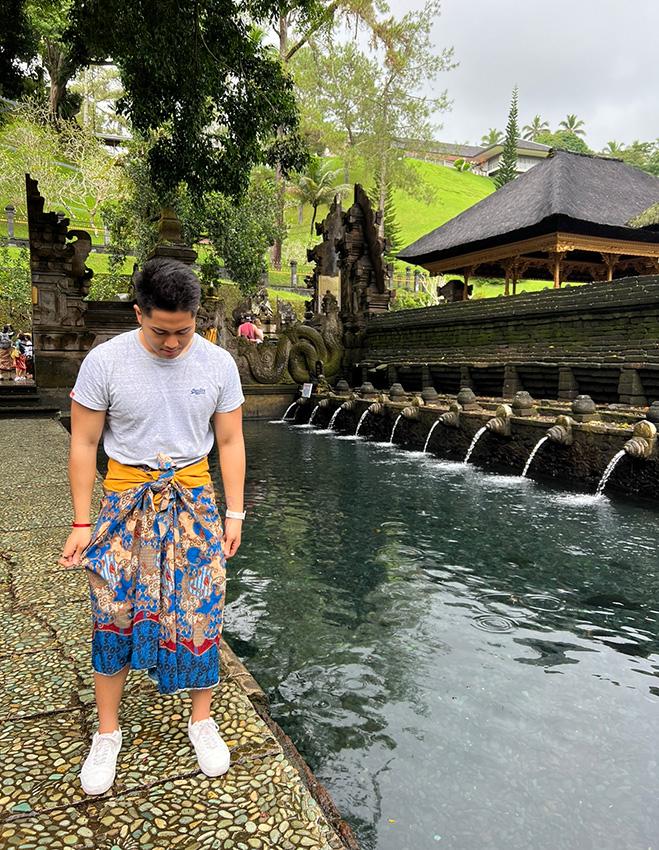 Interacting with the locals is the best way to immerse yourself in the culture. I tried my best to learn the language to show that I am making the effort to engage with them, especially the food vendors, workers, and locals. I also watched how they made traditional Balinese shirts called Batik. Visiting the Garuda Wisnu Kencana (GWK) Cultural Park was a highlight for me because of the massive sculptures that were created there.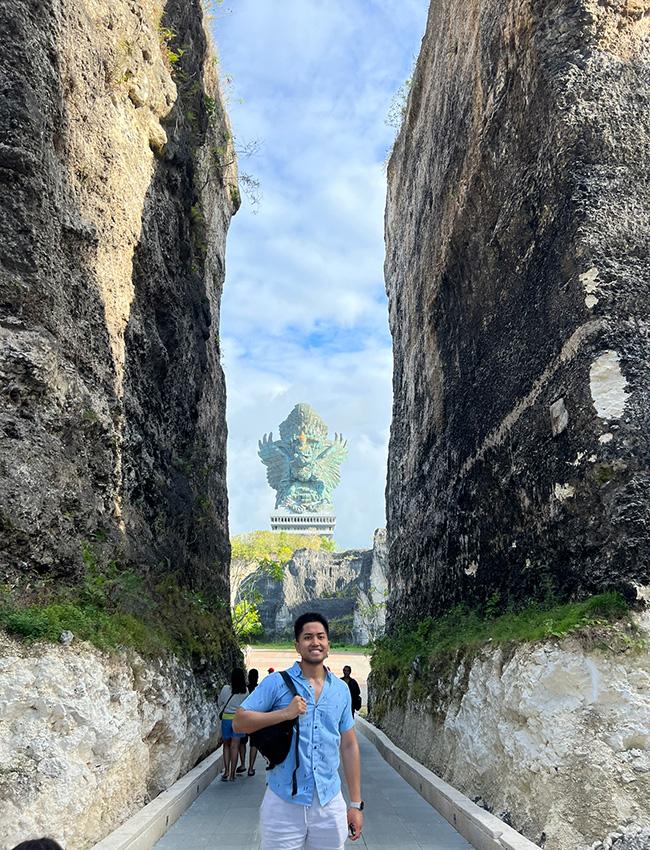 The food was amazing! I tried classic dishes like Mie Goreng (noodle dish) and Satay Ayam (chicken skewer), as well as some vegan food and desserts. The Balinese sticky rice with palm sugar and fresh fruit was definitely one of my favourite dishes. Presentation is key and they did not fail to impress! I also tried some from food vendors but if your gut is not that strong, I would advise to avoid them due to risk of food poisoning.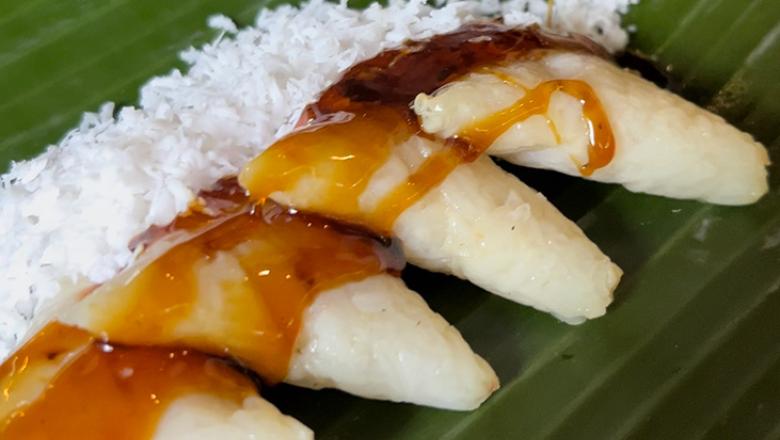 If you went back, what else would you do?
I would love to explore more temples and beaches, and do more hikes. I only went to a few main attractions, but there is just so much to see on this beautiful island. I would visit Tamblingan Lake, Banyumala Waterfall, Lemukih Waterfall, Ulun Danu Beratan Temple, Lempuyang Temple, Dreamland Beach, and Pandawa Beach just to name a few!
---
Originally from San Diego, California, Brian is completing his second year in Brisbane after a year online. Brian chose the UQ-Ochsner program to gain a global perspective on Medicine, to benefit from the early clinical exposure that the program offers and to enjoy the travelling opportunities that come from being based in Australia.  Since arriving in Brisbane, Brian has been enjoying the great food and coffee that the city has to offer as well as an active social life on and off campus!