UQ-Ochsner travel blog: Vietnam
The mid-year break is always the perfect opportunity for a trip outside of Australia. Tiffany, a first year UQ-Ochsner student shares her adventures in Vietnam.
Student stories
Published 20 Sep, 2023 · 3.5 minutes
What interested you in travelling to Vietnam?
Vietnam has always held a special place in my heart and my mother still works in Vietnam, so it was a no-brainer for me. I wanted to invite my friends back and show them where I had lived during my adolescent years.
How far is it from Brisbane?
Starting from June, 2023 there is a direct flight from Brisbane to Ho Chi Minh city and the prices are incredibly affordable. Though it is still an eight-and-a-half-hour flight, it goes by quickly since it's a red eye.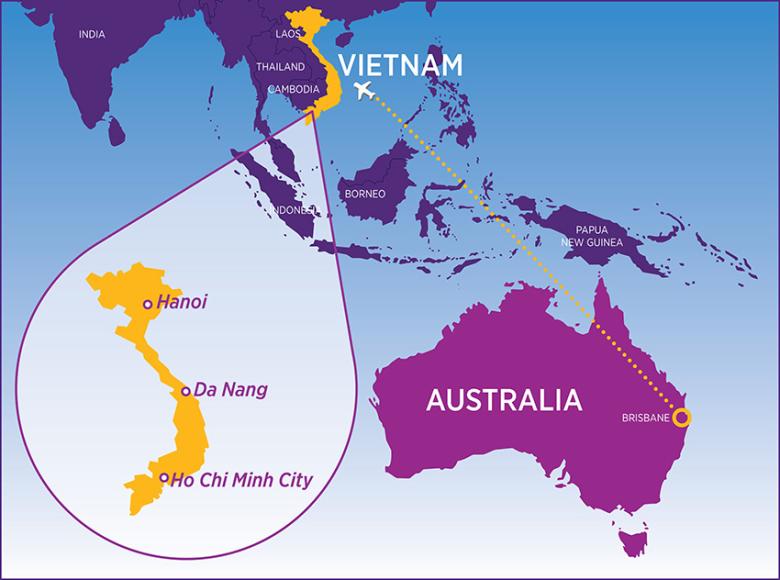 Who did you go with? Where did you go?
I have been back to Vietnam twice this year. During the mid-year break, I went with two UQ-Ochsner students and two Canadians and we visited Ho Chi Minh city and Ha Noi prior to heading to Thailand. In Ho Chi Minh we went on a tour to the Cu Chi tunnels and Mekong Delta. We rode in an electric cart around Unicorn island in the pouring rain and it was an absolute blast. We checked out Ben Thanh market and spent some time at the War Remnants Museum. In Ha Noi, we walked around Hoan Kiem lake, went to a water puppet show, and had dinner at Bun Cha Huong Lien, which is where President Obama and Anthony Bourdain dined when they came to Ha Noi. We did an overnight cruise in Ha Long Bay and it is a must-do!
During the mid-semester break in August, four of my UQ-Ochsner friends went to Ha Noi before meeting up with me in Da Nang and ending our trip in Ho Chi Minh city. In Ha Noi, they also did an overnight cruise in Ha Long Bay and they absolutely loved it. In Da Nang they did a snorkeling trip and rode in coconut boats. We visited the golden hand bridge and rode an alpine coaster at Sunworld, got plenty of massages, and dined in Hoi An. In Ho Chi Minh city we did a motorbike street food tour - make sure your tummies are empty and do the evening tour for a wonderful cruise around the city.

How did you travel around once in Vietnam?
We flew between Ho Chi Minh, Ha Noi, and Da Nang. However, there are sleeper buses you can take to get from city to city. Within each city we mainly walked or ordered Grab cars.
What budget would you recommend having?
Vietnam is very budget friendly. You can stay at hostels in any of the major cities for as little as $10USD per night, and of course there's a range of hotels if that's something you prefer! The food is incredibly cheap and you can't go wrong with a Vietnamese Iced Coffee every morning for less than $1. The most expensive part of your trip could quite possibly be your round trip flight from Brisbane to Ho Chi Minh. You could have a two-week vacation in Vietnam and spend $1,000 excluding flights.

What were some highlights of the trip?
Since I grew up here I am quite biased so I asked my friends what their highlights were.
Irene: "Kayaking, either the banh xeo or the little rice gelatin shrimp thingys (banh bot loc) we had as a snack while we waited for the clothes."
Cam: "Kayaking was a highlight, banh mi or first pho in Hanoi."
Rachel: "Train street was cool too."
Niki: "Kayaking Ha Long Bay, scuba diving in Chàm Islands or motorbike food tour in Ho Chi Minh!!"
Cat: "Ha Long Bay, dinner at Ngon restaurant, banh cuon, and banh khot."
Regina: "Ha Long Bay and Obama's restaurant."
Mikayla: "Vietnamese coffee!! I loved the old quarter in Hanoi and Mekong delta as well and the war museum was really interesting. Favorite food pho, Vietnamese coffee, banh mi, the whole meal with your mom at Ngon restaurant."
Jordan: "I also loved our Mekong day trip, and pretty much everything we ate was fire."

---
About Tiffany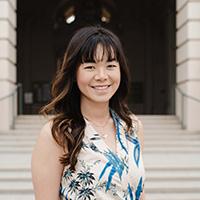 Tiffany is a first-year medical student with a unique background and a passion for global medicine. She spent a significant part of her life living in Vietnam, fostering an appreciation for diversity and different healthcare systems. Her academic journey at the University of California, Davis and University of Southern California fueled her desire to make a global impact in the field of medicine, which led her to the UQ-Ochsner MD program. When she's not immersed in her medical studies, she enjoys exploring Brisbane's diverse food scene, attending trivia Wednesdays, join exercise classes, and spend quality time with her friends.